Today starts with a photo briefing at 8:00 AM and that means if breakfast starts at 7:00 I have only about five minutes to eat. I leave the hotel at 7:11, entering the underground at 7:16, the metro leaves at 7:21 and I am marking today's 'goals' into the start list. I get off at 7:41, entering the Duna Arena at 7:51 and the photographs' room at 7:55. I catch the briefing in time covered with sweat

O 8,00 máme dnes foto brífing, to znamená, že ak mám raňajky od 7-mej, tak mám na ne asi 5 minút. O 7,11 odchàdzam z hotela, 7,16 vchádzam do metra, 7,21 metro odchádza a ja si značím "ciele" dňa do štartovej listiny. O 7,41 vystupujem, 7,51 vchádzam do areálu Duna arény a 7,55 do foto roomy. Brífing stíham, akurát mi tečie po chrbte pot
So, what are the rules for photographers? Quite strict. We have one common place for all of us by the pool, another smaller one just above it and also every spectator's seat, if they don't come. If they come, we have to let the seat. And since there is no way to get near the pool after the beginning of swimming it's a huge risk. There is also one place for photographers from big agencies right opposite us. Shooting from the front is allowed for six agency photographers and two 'ordinary' photographers when swimmers from their countries are in the water. There is also no bag policy at the pool. Good old Kazan and London.
So, let's begin. I need to find some spot; it starts in 30 minutes.
I only see Riso Nagy from all Slovak swimmers.

A pravidlá pre fotografov? Dosť striktné. Jedno spoločné miesto pre všetkých pri bazéne, jedno menšie nad týmto miestom na tribúne a tiež hociktoré divácke miesto, ak divák nepríde. Ak príde, má prednosť. Keďže k bazénu sa po začatí pretekov už dostať nedá, tak je to veľký risk. Jedno miesto majú ešte fotomani z veľkých agentúr oproti nám a fotiť z čela môže 6 agentúrnych a 2-ja "obyčajní" fotografi, ak im pláva akurát plavec z ich krajiny. Platí tiež "no bag policy", žiadne batohy k bazénu. Zlatá Kazaň, zlatý Londýn.
Poďme na to, je 30 min. pred začiatkom, treba si nájsť miesto.
Z výpravy SVK vidím akurát Riša Nagya.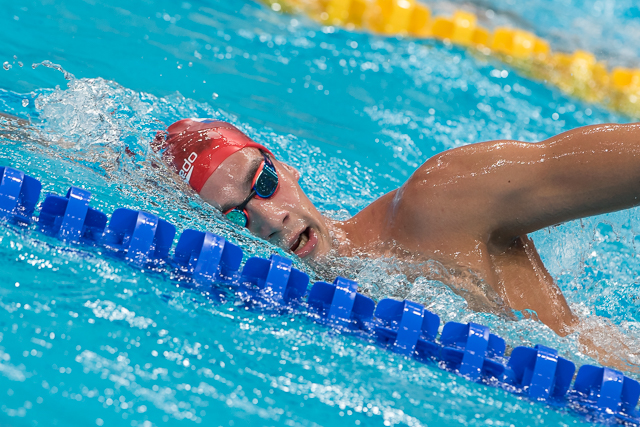 After the morning session, I hurry into the photographer's room and sort photos. No time for lunch, water, coffee and some scones will do
You have to catch a spot before the afternoon finals an hour before. So, despite having a lot to do I sit on my spot and chat with Martin Sidorjak.
And the finals? Except relays, Yang Sun with Katie Ledecky were no doubt in the spotlight today. Well, Yang a big time


He gave a big hug to re-elected Maglione too

Po skončení doobedia frčím do fotoroomy a triedim foto. Obed som nestihol, som na vode, káve, a pagáčoch
Miesta pred poobedným finále sa obsadzujú už hodinu vopred, a tak aj keď mám prácu, sedím na fotoposte a debatujem s Martinom Sidorjákom.
A finále? Okrem štafiet dnes hviezdili Yang Sun a Katie Ledecky. No a Yang veru poriadne


Vyobjímal aj znovuzvoleného Maglioneho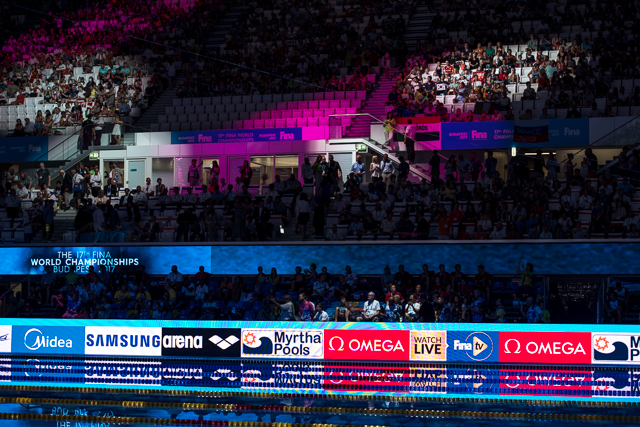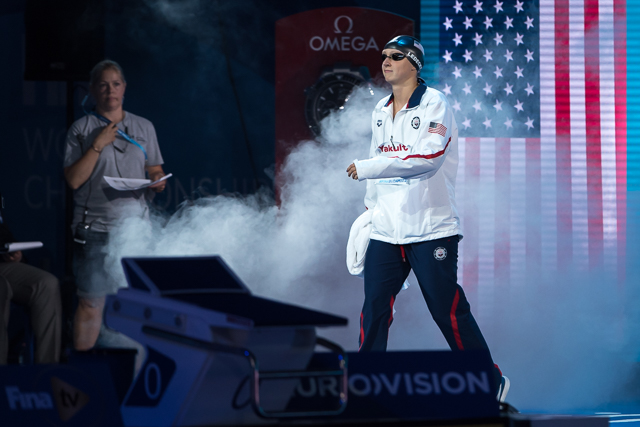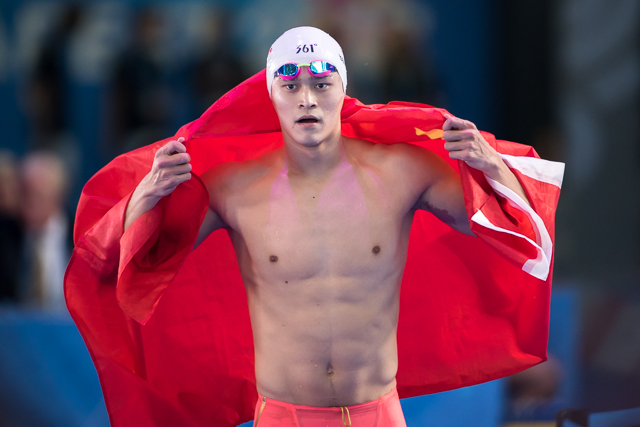 Coming to the hotel at 9:00 PM. After a shower and a beer, I start to work.
I am finishing at 3:00 AM.
Is it just me or is there actually a lion?

O deviatej prichádzam na hotel a púšťam sa po sprche a pive do práce.
O tretej ráno končím.
Zdá sa mi to, alebo vidím leva?