Yes, today it has been this and that. At first in the morning the taxi driver dropped us on the other side of the Arena as we were used to. No problem but it was a little bit further and the entrance security check was stricter. I'm already used to explaining two times a day that my backpacks won't make it through X-ray checks but here they wanted to unpack them completely… Considering that yesterday they wanted to try besides functionality of phone, camera and flash also if my umbrella was functional it was not that crazy

Today it has started with 100m backstroke women and men. So, I took a risk and I picked different spot, on the other side of the pool. Of course, it was higher and above spectators. The bee-line distance between me and starting blocks could have been about 80m. I wanted to try to take a photo of backstroke start when a swimmer bends backwards. Katka took off and this is a result. I still have to work on my skills…


Áno, áno, dnes bolo naozaj všelijako. Najskôr nás pán taxikár ráno vysadil na opačnej strane Arény, než sme boli doteraz zvyknutí. Žiadny problém, len to bolo trošku ďalej a bola tam prísnejšia vstupná bezpečnostná kontrola. Už som si zvykol, že 2x denne vysvetľujem, že moje batôžky skrátka pod rontgen nepôjdu, tu ich chceli ale aj kompletne vybaliť… Ale zase včera chceli okrem skúšky funkčnosti mobilu, foťáka a blesku vyskúšať aj či mi funguje dáždnik

Dnes sa deň začínal znakom 100m ženy aj muži. Tak som to riskol a "nainštaloval" sa na druhú stranu bazéna, než sa štartuje. Samozrejme ale vyššie a za divákmi. Od štartu to mohlo byť vzdušnou čiarou možno aj 80m. Chcel som skúsiť urobiť foto zo znakového štartu, keď sa plavec prehupne dozadu. Katka vyštartovala a tu je výsledok, ešte musím na sebe popracovať…

Yesterday, we (me and Peter) had decided that we wanted to see Kazan as well. So, today we have given up women's 1500m freestyle and before the beginning of these heats we left the Arena and went to the city. We saw beautiful Kremlin and I found out that it is actually a mosque. During our absence in Arena there didn't happen anything more than one new World record

Katie Ledecky broke it on "sacrificed" 1500m freestyle.
Včera sme si s Peťom povedali, že by sme chceli vidieť aj niečo z Kazane, a tak sme dnes "obetovali" disciplínu 1500m voľný spôsob ženy a pred jej začiatkom sme z Arény odišli a išli do mesta. Videli sme krásny Kremeľ a ja som zistil, že ono je to vlastne mešita. V Aréne sa neudialo počas našej neprítomnosti nič väčšie než jeden svetový rekord

Zaplávala ho práve na tých obetovaných 1500m Katie Ledecky.
During our trip to the city I finally understood how to get a taxi not just from the hotel. There is this system that when you order a taxi by calling you get information – when it will come, what type of car it will be. Phone number on taxi company Tatarstan is everywhere to find. It probably works well but the problem is that if you are calling from different phone number than Russian one you are out of luck. You can't get a taxi with this number. So, when a foreigner needs a taxi it must be called by some native, for example a volunteer on World Championships. We have tried it after today's finals and it really works this way.
We haven't caught today's finals, too

There is an hour's time shift between here and Slovakia and on my computer I still have the Slovakian time. So, I was calm until I realized that we weren't going to the Arena an hour before the start of the finals but that it had already started. For that reason we didn't see how Cameron van den Burgh missed the first place by seven hundredth of a second on 100m breaststroke and we also missed second World record of the day. It was broke by Sarah Sjostrom on 100m butterfly. Well, very clever of us…
But we did see handing out of four medals on 50m butterfly and I really liked when the guys came before photographers to pose. They weren't bigheaded or anything at all.

Počas výletu do mesta som konečne pochopil, ako si zohnať taxík aj inde, než z hotela. Ono tu majú totiž taký systém, že telefonicky si človek objedná taxík a dostane informáciu za koľko minút príde a aké auto to bude. Číslo na taxislužbu Tatarstan nájdete snáď všade a ono to možno aj fajn funguje, problém je jedine v tom, že ak voláte z iného ako ruského čísla, tak máte smolu. Na takéto číslo taxík nedostanete. Keď teda "inostránec" taxík potrebuje, tak ho musí zavolať nejaký domáci, napr. volunteer na MS. Vyskúšali sme si to po dnešnom finále a ono to naozaj funguje.
Dnešné finále sme nestihli zase

Je tu o hodinu viac ako na Slovensku a na počítačí čas nemám zmenený. A tak som si bol veselo v tom, koľko máme času, než som zistil, že nejdeme do Arény o hodinu skôr, ale že už vlastne finále začalo. A tak sme nevideli ako Cameronovi van der Burgh ušlo zlato o 7 stotín na 100m prsia a tiež sme nevideli druhý dnešný svetový rekord. Bola to Sarah Sjostrom na 100m motýlik. No čo už, šikovní sme
Videli sme ale odovzdávanie štyroch medailí na 50m motýlik a bolo to moc fajn, keď prišli chalani pózovať pred fotografov. Neboli to žiadne nafúkané bubliny.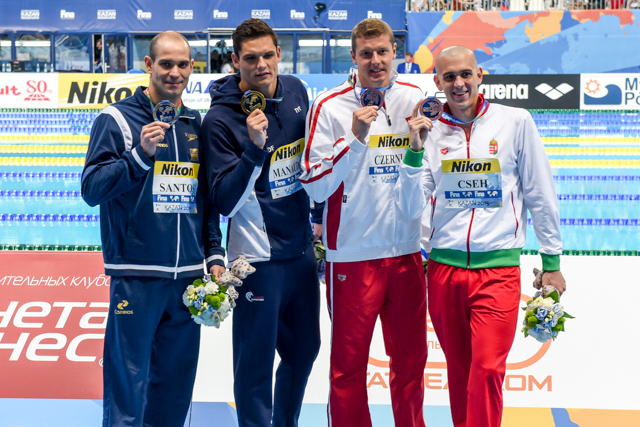 Following discipline was 200m medley and Katinka Hosszu with new World record. At least we saw one new record and it was worth it. I can't put the sound into the article but this is how it looked…

Potom prišla 200m polohovka, Katinka Hosszu a jej nový svetový rekord. Takže jeden sme dnes predsa len dnes videli a stál za to. Neviem do tohto článku vložiť zvuk, ale obraz bol takýto…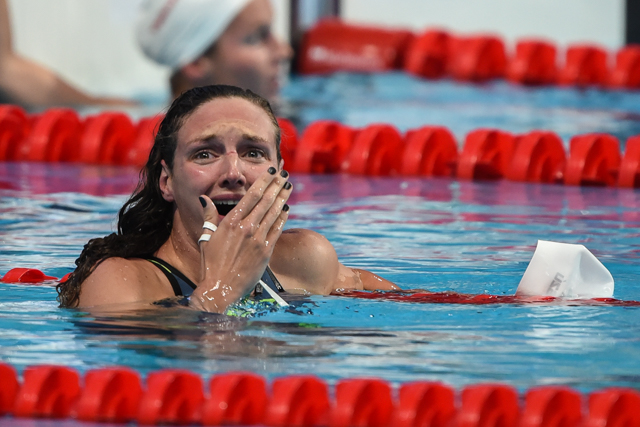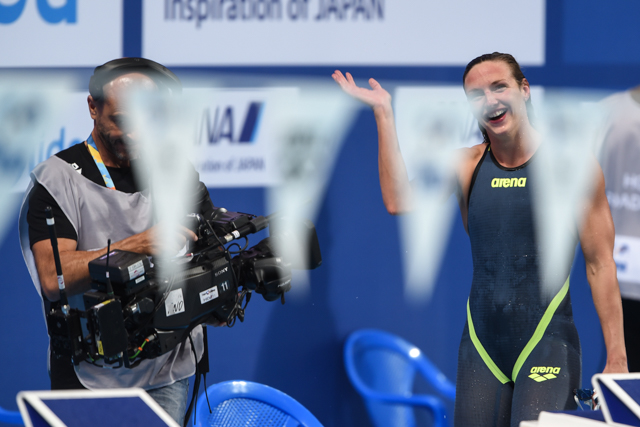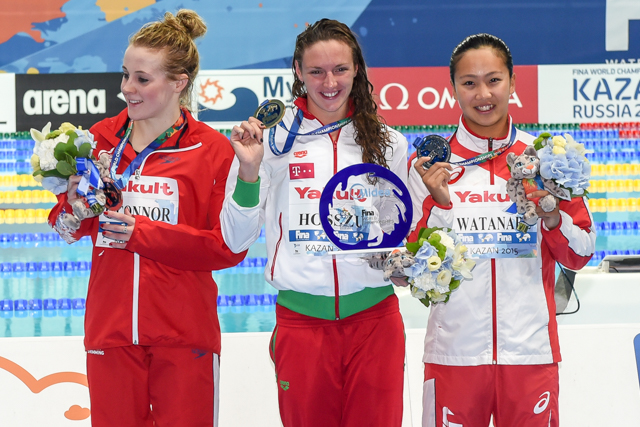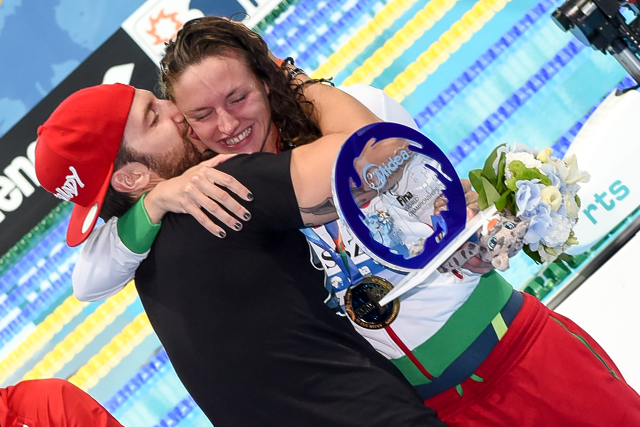 At last there was the awarding ceremony and end of finals. In the end, Laszlo Cseh came to pose before photographers but I had my equipment already packed and didn't want to unpack it again. But he seemed like a nice guy…
After we returned to the hotel we went to have a dinner, again to the hotel's restaurant, again the pasta. We order pasta with chicken or with seafood over again and for me also spicy pasta

So far, we enjoy the meal.
That's it for today's news.
Wait till tomorrow for upcoming news.
Stay with us!

Vyhlasovanie víťazov a koniec dnešného finále. Na záver dobehol pred fotografov už len Laszlo Cseh a pózoval… Ja už som bol ale zbalený a nechcelo sa mi znovu všetko vyberať. Je to ale sympoš…
Po návrate na hotel sme sa vybrali na večeru. Znova do reštiky nášho hotela a znova na cestoviny. Striedame dokola cestoviny s kuracím mäsom, s morskými plodmi a ja ešte pikantné

A celkom nám zatiaľ chutia…
Toľko dnešný spravodajský blok.
Ďalšie zaujímavé informácie sa dozviete zajtra.
Zostaňte s nami!