I have to get on the first couch in the morning when I go to the Arena. And when I go back, I need to get on the last one. That way, I walk the shortest distance possible.
I also know the names of metro stations almost by heart and this jingle too


Keď idem ráno do arény, treba nastúpiť do prvého vozňa. A keď idem nazad, tak do posledného. Vtedy sa nachodím najmenej.
Takisto už viem takmer naspamäť názvy staníc metra a túto zvučku

It was quite cold in the morning and I took off only in a T-shirt and shorts. I guess I'll enjoy it in the evening

During the morning session, they were repairing a lane line. It can happen at World Championships too, not just back home in Slovakia

Ráno bola celkom zima a ja som sa vybral iba v tričku a v kraťasoch, Večer si to asi užijem

Počas doobedných pretekov sa opravovala dráha, stáva sa to aj na MS, nielen u nás doma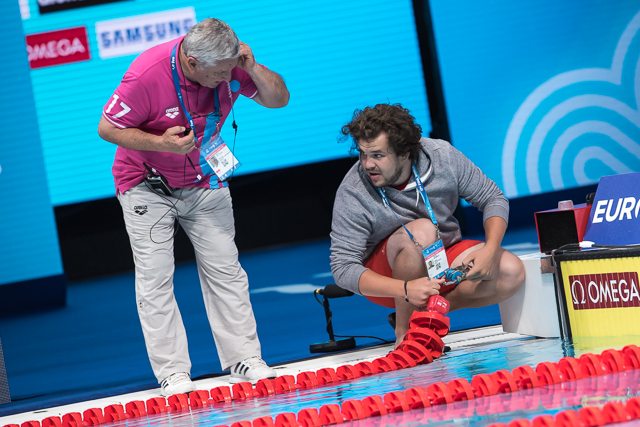 I took a few shots of officials so I could contribute to the Facebook group of swimming officials.
But it needs to wait till I have more time.

Trochu som pofotil rozhodcov, nech prispejem do facebookovej skupiny plaveckých Officials.
Ale až keď bude trochu času.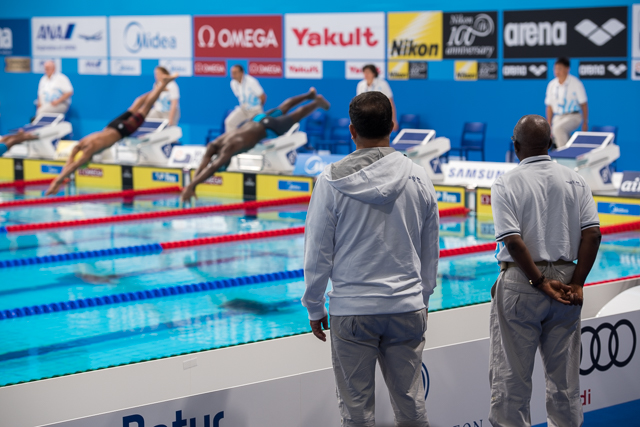 Hmmmm, a world record in the morning? Indeed…

Hmmm, doobeda a svetový rekord? Áno…

Today, Marek Botik and Riso Nagy represented our country, Marek swam 50m and Riso 800m freestyle.
It's a problem to even take a photo of Marek and a different problem to choose from hundred photos of Riso.
So, I took time with shots of Marek and send this photo to the daily photo competition

Z našich dnes plávali Marek Botik a Rišo Nagy, Marek 50m a Rišo 800.
Mareka je problém vôbec odfotiť, u Riša vybrať zo 100 foto tie najlepšie.
Tak som sa s Marekom trochu vyhral a poslal toto foto aj do daily photo competition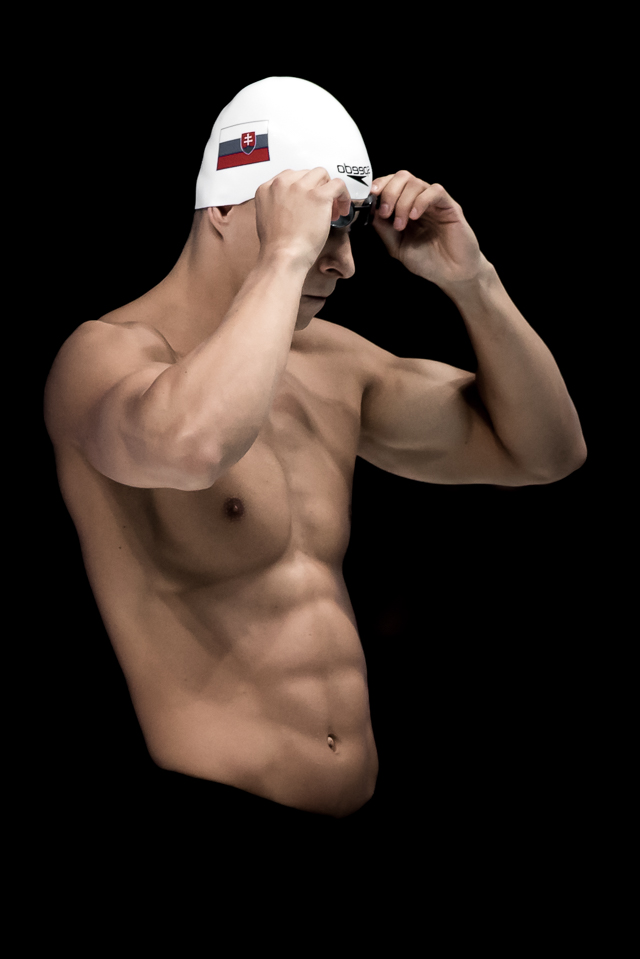 Other than that, Nikon quite surprised today, we celebrated its hundredth founding anniversary

No a dnes prekvapil trošku Nikon a oslávili sme 100-té výročie založenia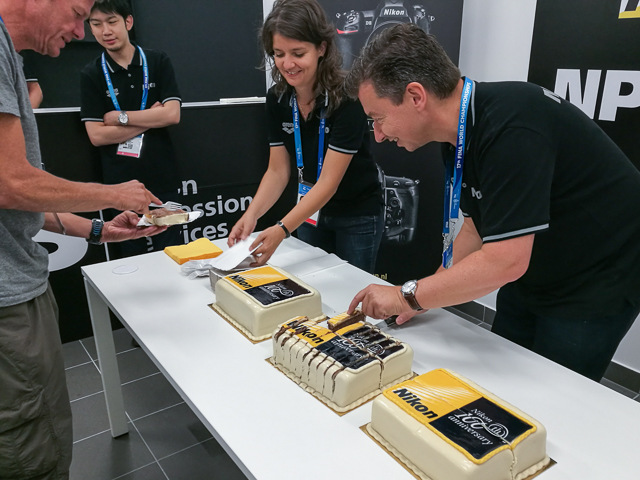 How about the afternoon? New champions and new world records

I even bought presents to bring home already

A poobede? Ďalší noví šampióni a nové sveťáky

A ja už mám nakúpené darčeky domov