Ha, today, I finally heard Slovak. I met Andrea Podmanikova with the coach Vladimir Zeleznik by the pool. I was so happy I didn't even take a photo of them even though I was holding the camera.
I tried to arrange my spot for Katka's backstroke in the morning but the rules became one big mess. At the end, they let me only on my standard place. Damn it

Ha, tak dnes som konečne počul slovenčinu. Pri bazéne som stretol Aďu Podmaníkovú s trénerom Vladimírom Železníkom. Od samej radosti som ich ani neodfotil, hoci som foťák mal v ruke

Ráno som sa snažil dohodnúť si pozíciu na Katkin znak, no ale poriadne to tu s ich pravidlami schaosili a nakoniec ma nepustili nikde inde, len na štandardné miesto. Sakra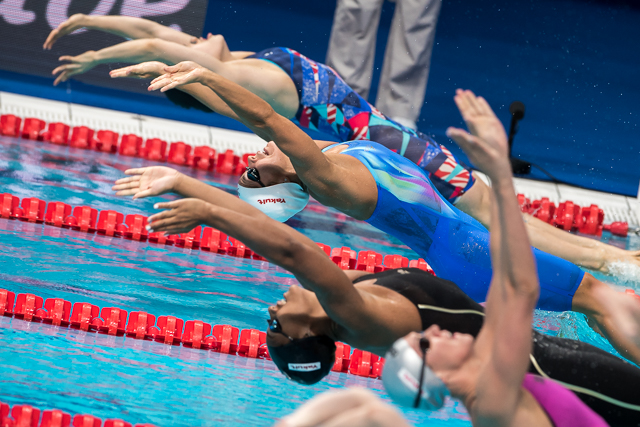 Today, Slovak mixed medley relay was swimming too.
I had a spot behind starting blocks, which is quite a good position to shoot all styles except the crawl

Dnes plávala aj slovenská mixová polohovková štafeta.
Bol som za blokmi na obrátke, to je celkom dobrá šanca na dobré zábery pre všetky štýly okrem kraula.

After the relay, our swimmers were supposed to pose for me. Andrea was my 'insider'.
However, it did not work as I planned and on the top of it, one 'professional' stood perfectly in my view.
So, this is all I got…

Po štafete mi naši mali zapózovať, Aďa bola moja "spojka".
No moc z toho pózovania nebolo a naviac mi jeden "profík" krásne zablokoval celý výhľad.
Tak len toto…

Well, how about the afternoon?
Today, I finally managed to send my photos to SwimSwam just few minutes after the end of every final heat. After the first one, only 10 minutes might have passed and already there was an article with my photo released. The shot was no miracle but I will work on that

So, I'm proud. It was a good day today

No a poobede?
Dnes sa mi konečne darilo posielať fotky do SwimSwamu pár minút po doplávaní každého finále. Po prvom finále to bolo snáď len 10 minút a už s mojou foto vyšiel aj článok. Fotka nič moc, ale to ešte vyladíme

Tak som dnes pyšný, bol to dobrý deň